Our Team
Our caring and compassionate veterinary care team!
Meet the Veterinarians & Team of Riverview Animal Hospital in Vancouver, WA! We're pleased to provide exceptional and state of the art vet care for your pets! Please call us at 360-256-4147 to speak to one of our caring veterinary staff members!
Dr. Scott Kepner D.V.M.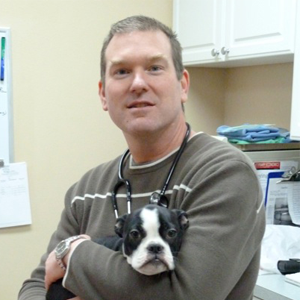 Dr. Kepner attended veterinary school at Oregon State University and Washington State University from 1993-1997.  Following completion of his education and training, Dr. Kepner practiced in Sedona, Arizona, Clackamas, Oregon, then relocated to Southwest Washington in 2003, to start Riverview Animal Hospital. Dr. Kepner has a passion and drive to educate clients on current diagnostic and treatment plans, helping them make informed and smart decisions for their four legged family member.  It is not uncommon for Dr. Kepner to spend 45-60 minutes of individualized attention to the patient and client.  Dr. Kepner has special interest in dermatology, internal medicine, oral surgery/dentistry and soft tissue surgery.  He has a good working relationship with veterinary specialist throughout the United States and utilizes their skills and talents when warranted. In his spare time, Dr. Kepner enjoys spending time with his wife Danielle and three children.  He finds balance in life through salt water aquariums, cooking and fly fishing.
Dr. Lisa Onstott D.V.M.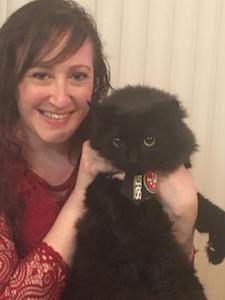 Dr. Lisa Onstott grew up in Las Vegas, NV but has loved the Pacific Northwest since attending college at Washington State University. At WSU, she obtained two Bachelor of Science degrees in Animal Science and Zoology. She completed veterinary school at Oregon State University in 2015 and has practiced in Vancouver, WA since then. She is extremely excited to join the Riverview team and continue to improve her medicine and surgical skills. She prides herself in client communication and making sure that the client feels comfortable with the treatment plan for their furry family members. She rescued an amazing black cat named Dexter from the Oregon Humane Society in Portland, OR in 2014. In her free time, she enjoys binge-watching tv, doing her nails, and socializing with friends. And one more thing…Go 49ers!!!
Danielle Kepner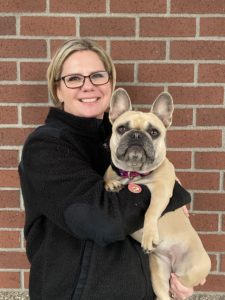 Danielle began working with Riverview Animal Hospital in 2009 doing bookkeeping and payroll, she transitioned to a full-time position in April of 2018. Danielle and Dr.Kepner share 3 adult children (although she does occasionally consider Dr.Kepner an additional child) and a full house of 5 dogs. The dog family includes, Rico the Boston Terrier, Luna the Boston Terrier Mix, Gimli the French Bulldog, Ella the French Bulldog and Quinn who is an English Labrador Retriever. In her limited free time she enjoys working in her yard and growing many varieties of succulents. Danielle loves living in the Pacific Northwest, but was raised in Arizona.
Mira Wiebe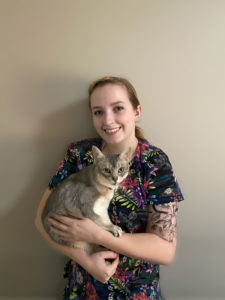 Mira has been with Riverview Animal Hospital since 2018.  She was born and raised in the Northwest but loves traveling to tropical areas, such as Hawaii. Mira has four cats at home, Aspen who is an Abbysinnian along with Basil, Kiwi and Willow who are all Oriental Shorthairs. She often jokes and calls herself a 'crazy cat lady', and one day aspires to run a cat rescue in her free time. Outside of work she enjoys gardening, crafting and making delicious desserts. Mira also hand creates all of our custom sympathy and get well cards for our clients and patients.
Kathryn Kobilan LVT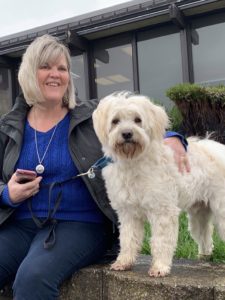 Kathryn graduated with an Associates Degree in Applied Science from Bel-Rea Institute of Animal Health in Denver, Colorado. She is a licensed veterinary technician (LVT) in the state of Washington. Kathryn grew up on 5 acres near Colorado Springs, Colorado, surrounded by numerous dogs and cats along with a few farm animals and horses. Her love for animals started early and has remained strong her entire life. Living outside Washougal, Washington for a number of years allowed her and her family to raise a variety of livestock, friendly barn cats and several dogs. Kathryn also worked with the Skamania  County 4-H organization for 2 years leading a 4-H dog group and organizing the Skamania County Fair Dog Show Competition. Currently living in Vancouver with her husband, they are entertained by Finnegan (pictured) a sweet and feisty terrier mix they adopted from a rescue in 2019. Passionate about providing compassionate quality care for pets, Kathryn joined Riverview Animal Hospital in February of 2020. 
Jazmyne Williams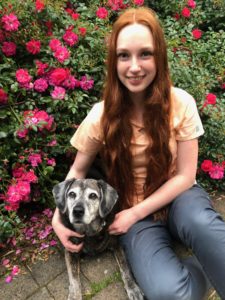 Jazmyne volunteered with Riverview Animal Hospital in 2019 during her senior year of high school and joined our team in 2020. She is currently enrolled at Washington State University Vancouver and is pursuing her Bachelors degree. She one day aspires to become a Veterinarian. She has a special interest in cytology and microscopy. When she is not in class or working, she is a member of the Washington State University 'Fashion Club.' Jazmyne shares her time with her beloved 14 year old Beagle-Hound mix Daisy. She was also born and still lives in Washougal.
Kelsi Eberle LVT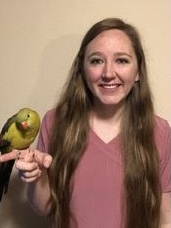 Kelsi joined the Riverview Animal Hospital team in June of 2020 and moved to Washington the same month. Kelsi graduated with an Associates Degree in Veterinary Technology from Stanbridge University in California. She is a licensed veterinary technician (LVT) in the state of Washington, Oregon, and California. Kelsi strives to provide patients with quality care each and every day. Kelsi grew up in Tustin, California and moved to Oregon with her husband in 2019. Kelsi has always loved animals and used to pet sit for neighbors and friends starting at a young age. Kelsi currently lives in Vancouver with her husband, Scott, their two snakes and their chatty Rock Pebbler Parakeet, Lil Pete. In her free time, Kelsi enjoys being outside and crafting.
Merrilee Green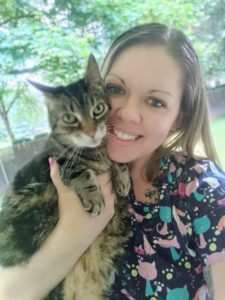 Since she was a small child Merrilee knew she wanted to care and work with animals. She currently has 12 years of experience working in the veterinary field and joined the Riverview Animal Hospital team in June of 2020. She loves building meaningful relationships with clients and their pets. Merrilee has two cats at home, Queen Pee Pee and Princess Jasmine. Queen Pee Pee had difficulty moving her back legs and was saved from euthanasia in 2005, following treatment she has made a full recovery. Princess Jasmine is very sassy and loves to demand affection and cuddles, when she is not pestering her big sister. She also recently adopted a new puppy named Bug, who was love at first sight. Merrilee currently shares her time with her fiancé David and her step-son. While she is not caring for animals she partakes in an active lifestyle of traveling, hiking and doing yoga. Merrilee also enjoys horror movies, game nights and cooking and baking.
'Quinn' Kepner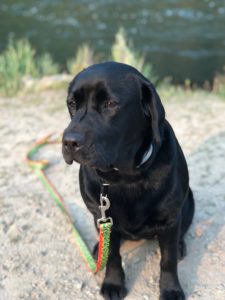 Quinn joined the Riverview team in 2019. She is a purebred English Labrador Retriever and has a very calm demeanor. You will often see her sitting beneath the reception desk, or in one of the comfortable chairs in the lobby. While she is not at work she enjoys swimming and playing fetch.
'Ella' Kepner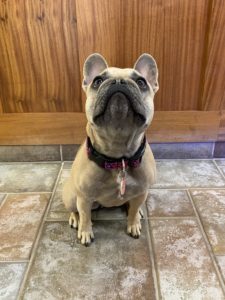 Ella joined the team at Riverview Animal Hospital in 2018. Notorious for getting into trouble, Ella has earned the nickname of 'Stinky'. Ella is a purebred French Bulldog who has lots of personality and energy. She loves to nibble on ears and cuddle. You will often see her running around the clinic and jumping onto the furniture.